NEWS

September 9th 2010
New song up on myspace (Lost Keyes) and we are going to France/Belgium....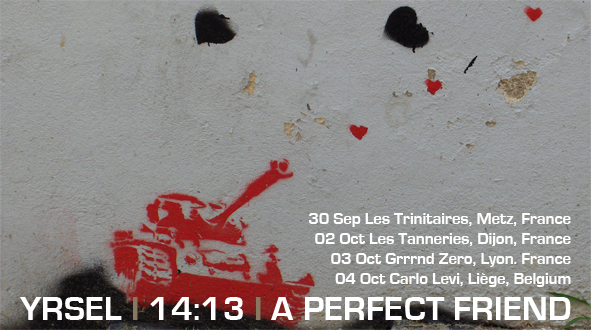 October 1:st 2009 - Timber and Modern Ways - PRE-RELEASE TODAY!
Very soon, APFs second album TIMBER AND MODERN WAYS will be available on Itunes, Spotify and a limited cd edition. Today though, it's available in a digital edition via KNOPPARS web-shop. APF lives again!




August 31th 2009 - APF signed to KNOPPAR
A Perfect Friend has been signed to Knoppar for their second full-length
album TIMBER AND MODERN WAYS. The release is planned late this year on cdr,
digital and on spotify. KNOPPAR also houses great stuff such as Hajen and
Tvärvägen.

Tracklist includes: 1) Inside The Walls 2) Onion 3) The Artificial Lung
4) Sail The Soil 5) Branch Fever 6) Pontoon 7) Maple 8) Timber and
Modern Ways 9) Post Rock 10) Matro

More info + artwork will be posted later
August 27th 2009
Soon, we will have some good things to report about TIMBER AND MODERN WAYS,
our the second album. Expect it to be available late 2009. Tracks include: 1) Inside The Walls
2) Onion 3) The Artificial Lung 4) Sail The Soil 5) Branch Fever 6) Pontoon
7) Maple 8) Timber And Modern Ways 9) Post Rock 10) Matro
APF is also playing at Zebra in Brussels Sat. Oct 24
More info soon.


September 9th 2008 - APF featuring on American Compilation
The song "Archipelago" is featured on a compilation cd released by US label
Series Two Records.
http://www.indiepages.com/seriestwo/





August 29th 2008 - Two albums recorded // Label Needed
It's been a while since we uploaded our website. Since last time, CJ has recorded
several cds with his solo project ONDO and
I've been releasing my third solo album in Europe. A Perfect Friend has been very
prosperous too although we haven't been that visible on stage. We have finished our
second album as reported, but also recorded most parts of a third one "Ant vs Ant Lion"
which is a little more edgy and cinematic. We have a sample from these sessions, a
song called The Artificial Lung, up on our myspace HERE

We hope to find an interested label to have any of those released or both.


February 6th 2008 - Demo & Outtakes CD-r




As reported in last post, we have finished the recordings of our second album that
will hopefully be released later this year. During our recordings we've gathered
quite many songs that didn't really fit on any album but that we still want to do
something with. Therefor we're launching this demo&outtake cd-r Graduation Day
the first in a planned series. This will be sold at shows and through the website
only and is the first in a planned series.


January 21st 2008 - New album "Timber and Modern Ways" recorded




This weekend, we finished (except for one guest appearance) the recordings for our second album "Timber And Modern Ways". Ten songs are landing in on a little more than 40 minutes. The release date is a subject for a future post, but most likely during 2008. The album tracks "Maple" and "Post Rock" are available for listening on our myspace-page APF @ myspace

During our recordings we got quite a lot of material that we liked but didnt fit on the album and we're going to make something with some of those too.


November 27th 2007 - Memories of Brussels
We're back from Cimatics in Brussels, Loved every second, and we hope the audience liked it too. Photos can be seen below and Jerome at STILLL caught some 90 seconds of the show here:
http://www.youtube.com/watch?v=gnYI9BEdQuY

ON LOCATION - Av Club

IN THE ORGAN I TRUST - how to mic up the old silvertone trustworthy

APF @ Live at CIMATICS (AV CLUB), Brussels (backprojection video made by CJ)

Thomas Jonsson

CJ Larsgården

MÖSSFRISYR at the hotel room. Got my backstage pass. Yaaay!

ALAIN AND JEROME FROM OUR LABEL (STILLL). Alain's showing off their catalog, for an example our album.

THE BEST DRIVER EVER - In only a couple of minutes we saw this van squeeze in between the cars. I can't believe it.

THE TELEVISION TOWER - like a comic of Jan Lööf

PSYCHEDELICA - Chilling at the hotel bar. Thomas, Leffe and C-J.

November 21
In only three days from now, Thomas & CJs' indietronic duo A Perfect Friend will play at Cimatics 07 in Brussels, Belgium. Both album material and new songs will be performed.




Fancy Italian indie mag BLOW UP had a half-page about A Perfect Friend in their last issue





October 2nd
A Perfect Friend is confirmed to play at Cimatic Festival 2007 in Brussels, Belgium. The date is November 24th. The two friends will do a warmup gig at Le Bonheur the day before. Unfortunately the warm-up show at Le Bonheur was cancelled. sorry.


September 13
Thomas third solo album "The Lake Acts Like An Ocean" will be released September 19th.
For more info: www.thomasdenver.com.


August 18
Yesterday APF did their first ever live show...




August 03
The album songs "Welcome Aboard" and "Strings of Hayden" (in a 30 sec longer version) are available on A Perfect Friend's myspace-profile A Perfect Friend

July 29
Australian national radio ABC recently played A Perfect Friend in their show "Sound Lab", "fantastic" was the judgement.

July 13
APF's album got a good review over at Allmusic Guide. 3 stars out of 5. "a promising first effort.

July 8
Audiversity.com gives a raving review to A Perfect Friend's album. From the review:
"[APF] do a great job of crafting a very organic album out of mostly sounds created from electronic knickknacks. It stutters and clicks and crackles, but is always counteracted with warm touches of acoustic guitar, accordion, organ or something else with a very autumnal tone.

June 28
Friday 17th August will be the date when A Perfect Friend make their stage debut. The venue is Koriander in Karlstad, Sweden.

June 23
APF met up this past weekend and recorded big parts of a new album Somewhat more dynamic and minimalistic. Tracks include: "Post Rock", "Timber and Modern Ways", "Branch Fever", "The Wrong Side of You", "Graduation Day", "Archipelago" and "Sail the Soil"...
June 10
Three days ago were the official release of our album. First in Benelux and then in the rest of the world throughout June. Drop us a line if curious how to order your own copy. Amazon should do the trick. Scandinavians use Dotshop.
May 25
Yesterday we got the finished cds in our greedy little hands. The official release date is set to June 7 and it will be available at our scandinavian distributor Dotshop June 11. Make sure to pre-order a copy here: Dotshop
April 28
STILLL releases APF's debut album June 07th! The label describes it as: "APF could be ranked among the quiter moments of Sigur Rós, the icy electronics of Radiohead and the lyricism of Johann Johannson".